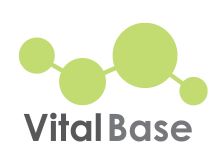 Vital Base International Limited
With over decades specializing in scientific marketing support to multinationals and medical institutions, Vital Base is committed and experienced in converting product features into clinical value for healthcare professionals, and educating patients on diseases and their prevention.
Mailing Address
Unit A, 17/F,
Mai Wah Industrial Building,
1-7 Wah Sing Street,
Kwai Chung, N.T., H.K.

Contact Information
Tel: (+852) 2811 9711
Fax: (+852) 2579 0599

Website

V·Pulse at The Glance
The pulse is an indicator of circulation in the body, where blood functions as the medium for transportation of vital elements as well as messenger. It is here where we got our inspiration for V·Pulse - we aim to be the messenger between the medical landscape and healthcare professionals in Hong Kong, circulating the newest breakthroughs and opinions.
At Vital Base, we subscribe to the model of patient-centred healthcare and see our role to be informative and educational. Our coverage will address therapy areas relevant to Hong Kong such as infectious diseases, mental health, and non-communicable diseases. With a focus on impactful and meaningful articles, it is our mission to truly make a difference on patients' live.