Living Well with the Kidneys - Holistic Care for Managing Chronic Kidney Disease
BY: Dr. Roy Lau
Jun 21, 2021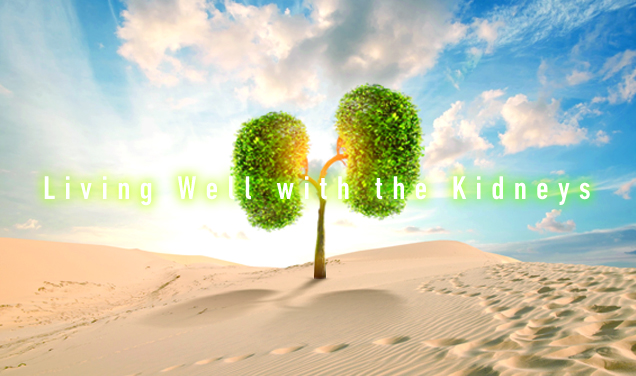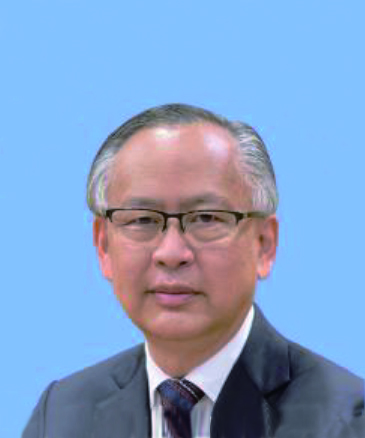 Dr. Lui Siu Fai BBS, MH, JP
President of International Federation of
Kidney Foundations -
World Kidney Alliance (IFKF-WKA)
The Time is Now Reconsideration on Dietary Intervention in CKD
Chronic kidney disease (CKD) affects about 10% of global population with an increasing prevalence1, and the CKD burden in Hong Kong is expected to be high. Undoubtedly, adherence to healthy diets is an important measure in the management of CKD and is recommended by international guidelines. Particularly, protein restriction has been recommended for CKD patients, but the compliance to the recommended diet is low in reality. Thus, reconsideration on the recommendations on dietary intervention and the approach for delivering kidney health information to CKD patients is urgently needed. In a recent interview, Dr. Lui Siu Fai, President of International Federation of Kidney Foundations - World Kidney Alliance (IFKF-WKA), and Dr. Wang Yee Moon Angela, President of the International Society of Renal Nutrition and Metabolism, shared their expertise on dietary intervention for patients with kidney diseases and discussed the essence of health literacy as well as its significance in improving clinical dietary advices.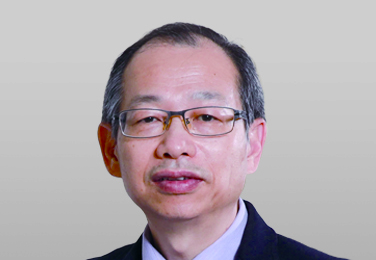 Dr. Cheng Yuk Lun
Chairman,
Hong Kong Society of Nephrology
Living Well with the Kidneys
Holistic Care for Managing Chronic Kidney Disease
The burden that chronic kidney disease (CKD) imposes is alarmingly heavy. It is associated with various comorbidities including cardiovascular diseases (CVD) and diabetes mellitus (DM) as well as a wide spectrum of psychosocial problems. Currently, CKD affects about 10% of global population, whereas its prevalence and impact on health continue to increase. It is predicted that CKD and related CVD mortality would become the 5th cause of death worldwide by 20401. Hong Kong experiences a progressive increase in the prevalence of treated end-stage renal disease (ESRD)2. The CKD burden in Hong Kong is expected to be high as CKD understandably forms the base of the ESRD iceberg. Nonetheless, a significant proportion of local high-risk population does not aware of their potential kidney problem and takes no preventive measures, leading to worsened health outcomes. To highlight the unmet needs in CKD prevention and clinical management, Dr. Lui Siu Fai, Chairman of the Hong Kong Kidney Foundation, and Dr. Cheng Yuk Lun, Chairman of the Hong Kong Society of Nephrology, shared their insights on holistic management for CKD.
Local Burden of CKD
Although a CKD registry is currently not available in Hong Kong, the CKD burden can be reflected by the ESRD burden captured by the Hong Kong Renal Registry, which is a systematic online system developed in 1995 by the Hospital Authority (HA). The Renal Registry collects epidemiological and clinical data of all dialysis and kidney transplant patients from hospitals operated by the HA, and covers about 90-95% of local ESRD burden2. "Hong Kong shares a similar prevalence of renal impairment, ranging from mild to end-stage renal failure, with the global data, i.e. about 10%1, and currently more than 1,200 new patients reaching ESRD are on renal replacement therapy (RRT) or require kidney transplant each year, resulting in around 12,000 patients with ESRD on renal replacement therapy in Hong Kong. There are also mild or moderate cases of renal impairment with proteinuria, or those associated with diabetes mellitus (DM) or hypertension are common," Dr. Lui commented.
Dr. Cheng highlighted based on the Renal Registry that the trend for kidney transplant and dialysis, and expectedly that for CKD, has been rising since its launch in 1995. He also emphasised the correlation between the trends of RRT and that of DM (Figure 1)3 and the impact of DM on kidney function. Both Dr. Lui and Dr. Cheng advocated that good control of DM would help manage CKD.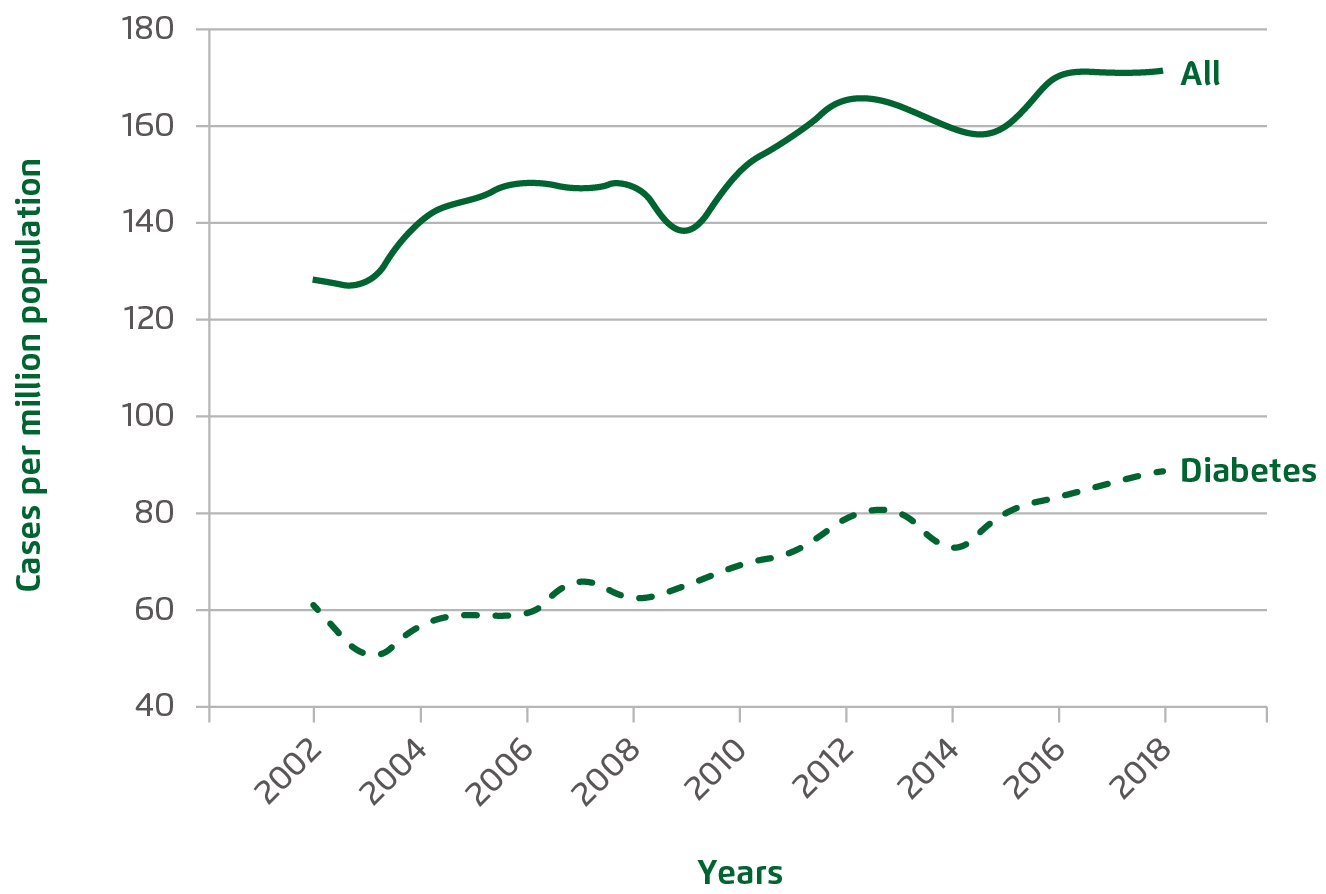 Figure 1.
Incidence of new cases on RRT and incidence of new cases on RRT attributed by diabetes in Hong Kong (per million population/year), 2002-20183
In response to the inquiry on risk factors of CKD, Dr. Lui stated that DM is the most significant risk factor for CKD and about 52% of newly diagnosed cases of ESRD are stricken with DM (data from Hospital Authority's Renal Registry December 2020). Besides, he added that uncontrolled hypertension accounts for about 10% of CKD cases, whereas about 20% is due to glomerulonephritis. Moreover, according to Dr. Lui, people with past history of kidney disease and those with family history of kidney disease are also at increased risk of CKD. Based on the established clinical data and opinions above, it is obvious that the prevalence of CKD is high in the local population and the related disease burden has been increasing in recent years. In view of its significant association with ESRD and dialysis, comorbid DM is the major risk factor urgently needed to be controlled.

Comorbidities of CKD and Their Impacts
While the local prevalence of CKD is significant, its adverse impacts are extensive. Dr. Cheng commented that, as kidneys play vital physiological roles in homeostasis of acid-base and electrolytes as well as removal of metabolic wastes, impairment of kidney functions will result in disturbed functions of other organs. A recent cross-sectional study involving data from >1.2 million adults in Scotland reported that 98.2% of patients with CKD had at least one comorbidity, whereas hypertension, chronic heart disease and DM were the most common comorbidities recorded. The results also showed that CKD had significant positive associations with various mental health comorbidities (Figure 2)4. Moreover, Dr. Cheng added that renal impairment may adversely affect blood formation and bone health as well.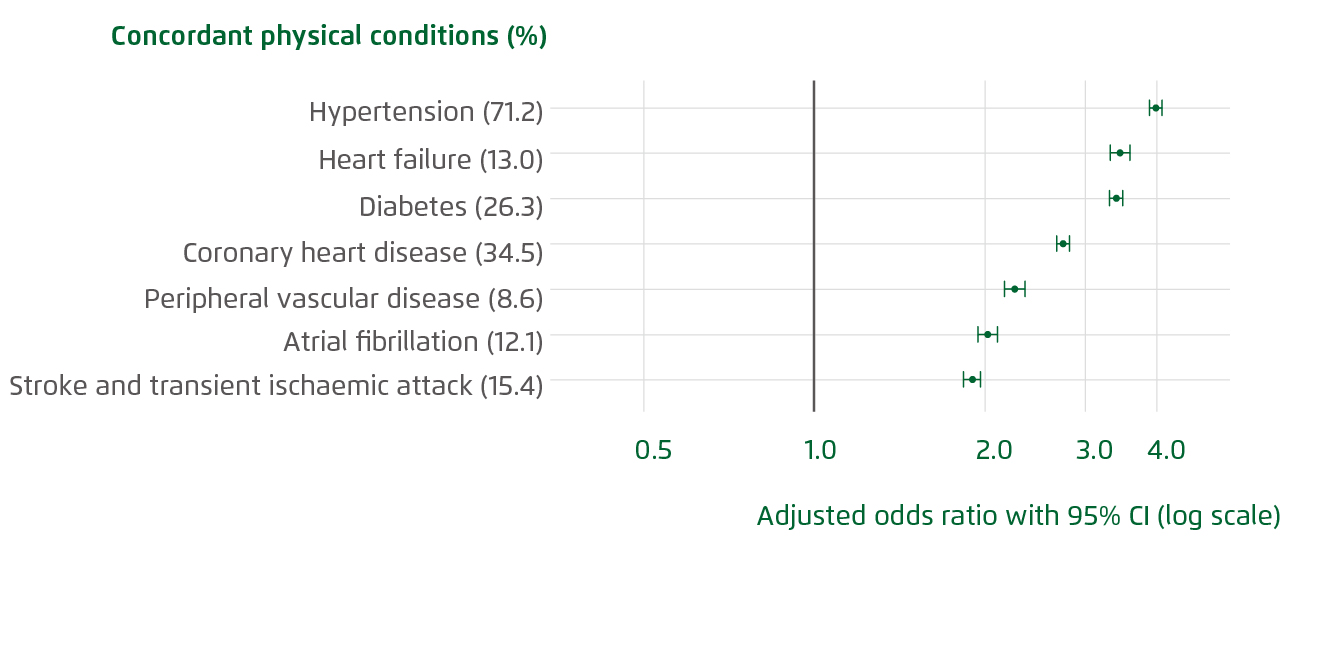 Figure 2.
Adjusted odds ratios for physical comorbidities of CKD4
In reviewing the impacts on quality of life of patients with kidney diseases, Dr. Lui presented the findings of a recent local survey jointly done by the Hong Kong Kidney Foundation (HKKF), Hong Kong Society of Nephrology (HKSN) and Hong Kong Association of Renal Nurses (HKARN), which involved 1,138 adults with different stages of kidney diseases. The results revealed an average score of 6.3/10 on overall living. Nonetheless, respondents received kidney transplant reported the highest average score (7.6/10) indicating better quality of life, whereas those newly diagnosed with CKD with no treatment prescribed had the lowest score (5.2/10)5.
The survey took a closer look at the nature of adverse quality of life in patients with kidney diseases. For instance, the results indicated that fatigue (61%), sleep problems (47%) and shortness of breath (47%) are the most common physical conditions affected quality of life reported by the patients (Figure 3). In the psychological aspect, concern about future (57%), anxiety (42%) and mental stress (38%) were the major factors contributed to the adverse quality of life among the respondents (Figure 4). In addition, the results visualised the potential socioeconomic impacts concerned by the patients, with the potential impact on financial status be the most common problem reported (50%). Concerns for diet restriction (39%), impacts on family and friends (38%), and working ability (38%) were major factors adversely affected the living of the patients as well5.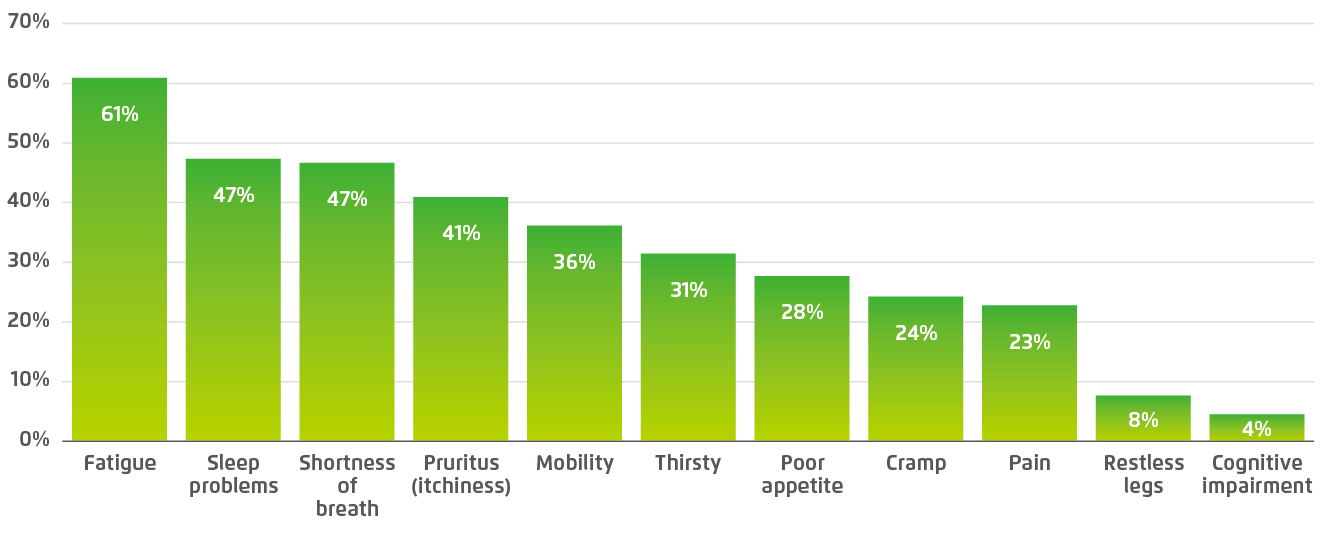 Figure 3.
Physical problems adversely affect quality of life of patients with kidney diseases5

Figure 4.
Psychological reasons for adverse quality of life in patients with kidney diseases5
Dr. Lui emphasised that suboptimal control of the risk factors of CKD, particularly DM and hypertension, would result in progressive decline in renal functions. In contrast, timely and effective treatment would help maintain renal condition. He noted that there are therapeutics for hypertension would concurrently reduce pressure in glomeruli, the basic filtration units of the kidney. Moreover, Dr. Cheng highlighted the importance of diet management in controlling CKD and its complications. "A former report by the Department of Health suggested that 86% of local people had dietary salt intake above the recommended daily limit6. It is crucial to realise that reducing the workload of kidneys by following a kidney-friendly diet would help reduce renal impairment," said Dr. Cheng.

Essential Aspects in Managing CKD
The treatment goal for kidney disease is to delay the decline of renal function. Undoubtedly, early treatment for CKD is essential for optimising health outcomes. Dr. Cheng pointed out that the key issue in managing CKD is to figure out and hence to treat the underlying causes of CKD. For instance, the patient's blood pressure and body weight have to be well-controlled. Dr. Cheng added that complications caused by CKD have to be treated as well. "CKD would increase the risk of CVD and thus cholesterol and blood glucose levels have to be monitored and controlled," recommended Dr. Cheng. Besides, lifestyle intervention is important in CKD management. Quit smoking, weight management and avoiding food with high protein or salt contents are recommended.
Dr. Cheng expressed that patients' compliance is one of the major factors determining treatment outcomes. He advised that frontline physicians need to remind their patients on the clinical implications of complying with treatment prescribed. He further suggested that therapies with simple dosing and/or multiple therapeutic functions would enhance compliance. Dr. Lui agreed that physicians should select the most suitable treatment for patients based on various factors including patient's daily life and economic conditions.
Dr. Lui further addressed the management of CKD from a macroscopic view. "Kidney disease is a lifelong journey and the foremost intervention for the disease is to enrich patients' knowledge on the kidney and its functions. Patients will understand the proper way to protect the kidneys if they know more about the organ and how it works," commented Dr. Lui. He stated that many patients with kidney disease deny the disease they suffered from and refuse the treatment required. Communication between physicians and patients thus plays a vital role in the management of CKD. "Patient's thorough understanding of kidney disease management is a prerequisite for patient empowerment," he emphasised.
Nonetheless, Dr. Lui commented that it is not only to educate the population as a whole, but to identifying and working with the high-risk populations is crucial. However, early-stage kidney diseases are often asymptomatic. Therefore, Dr. Cheng reminded that frontline physicians need to closely monitor the renal conditions of patients with risk factors of CKD.
Besides communication with patients, Dr. Cheng highlighted the importance of communications among physicians of different specialties in ensuring optimised outcomes of kidney disease. He outlined that most primary causes of CKD including DM and hypertension are initially handled by family doctors. Depending on the treatment outcomes, the patients may then be referred to endocrinologists and subsequently to nephrologists. Dr. Cheng stated that effective communications and comprehensive discussions on appropriate treatment protocol for the patients among the specialists would help optimise treatment outcomes.

Promoting Kidney Health in the Community
To control the increase in CKD cases in our community, enhancing the awareness on kidney health in general population and hence identifying the high-risk populations are essential. However, Dr. Lui mentioned that, in a blood testing activity held at a local public estate, about half of the participants with DM, and those with hypertension, did not know their disease condition. Even worse, half of the people with DM and/or hypertension, who realised their own conditions, were not treated. The situation was further worsened by patients' non-compliance. Nonetheless, both Dr. Lui and Dr. Cheng agreed that screening scheme for detecting CKD among high-risk populations is highly desirable.
Dr. Lui commented that the time for communication between physicians and their patients is in fact very limited and it is very difficult to raise the awareness of kidney care as well as other chronic diseases during consultation. Therefore, he recommended that comprehensive health promotion in the community through webinars and patient sharing activities are urgently needed. Dr. Cheng also encouraged physicians to participate in patient societies and share their expertise with the patient members. He highlighted his experience in a previous online event organised by the HKKF and HKSN, in which many elderly joined the event and shared their views. This indicated that innovative technology will not be an obstacle for elderly patients. Besides, Dr. Cheng advocated that CKD patients should be more active in asking their physicians about their physiological conditions including blood pressure, glucose and cholesterol level, and renal functions.
Dr. Cheng commented that the current main issue in preventing kidney disease in general population is the lack of a systematic plan. "The screening tool for hypertension and DM are already available, but not many cases of abnormal findings will be translated to renal functions and thus potential kidney problems are ignored," he said. He further advised that patients should be informed with the benchmark values of medical parameters, such as those on blood glucose and renal functions, indicating their risk. Accordingly, promoting the awareness on kidney health is not only important for general public, but also among frontline physicians.

Managing CKD in the Era of E-health
With the advancement of information and computer technology, artificial intelligence (AI) and software applications have become an important component in managing chronic diseases including CKD. While the time for each consultation is limited, Dr. Lui suggested that patients create a medical profile of themselves, which includes information on physical conditions (home monitoring of blood pressure, blood glucose (if diabetic) and symptoms such as sleep quality, as a quick reference for physicians. He outlined that web-based applications should be developed for remote medical data collection and AI would be applied in subsequent medical data analysis and detection of abnormality. Both physicians and patients will be notified in cases of alarming conditions. A recent trial on web-based self-management system for patients with CKD demonstrated that the system would improve user experience by tailoring the content and resources to their needs and would facilitate implementation of virtual care, which is particularly important during current pandemic7.

Face It but Not Fear It
The disease burden of CKD and its complications is substantial, whereas multi-disciplinary effort and the involvement of patients are vital in controlling the growth in new CKD cases. As Dr. Lui advised, providing knowledge on kidney functions and related diseases for high-risk populations and patients is one of the core actions required. Better understanding of the pathology and treatments of CKD would avoid patients' fear towards CKD and hence enhance the acceptance on the treatment prescribed. This would facilitate self-management by the patients as well.
Dr. Cheng emphasised that CKD is curable, but timely treatment is crucial. As early-stage CKD is often asymptomatic, both physicians and high-risk populations have to be more active in monitoring the risk factors of CKD. Particularly, people with DM, hypertension, past history and family history of kidney diseases are advised to monitor their renal functions regularly. Last but not least, maintaining healthy lifestyle including regular physical exercise, weight control and diet with low salt and cholesterol contents are essential for preventing CKD and other chronic diseases.
References
1. Sever et al. Clin Kidney J 2021; 14: 23-35. 2. Tang. Nephrology 2018; 23: 72-5. 3. United States Renal Data System, USRDS 2004-2020 Annual Data Report, National Institutes of Health, National Institute of Diabetes and Digestive and Kidney Diseases, Bethesda, Maryland. Available from URL: https://usrds.org/annual-data-report/ 4. MacRae et al. Br J Gen Pract 2021; 71: E243-9. 5. Living well with kidney disease - An online patient survey for all Hong Kong patients on renal replacement therapy. In: World Kidney Day. 2021. 6. Department of Health, Hong Kong. Report of Population Health Survey 2014/15. Available from URL: https://www.chp.gov.hk/files/pdf/dh_phs_2014_15_full_report_eng.pdf 7. Donald et al. JMIR Form Res 2021; 5. DOI:10.2196/22220.